1 John 4:10: This is love: not that we loved God but that he loved us and sent his Son as an atoning sacrifice for our sins.
Thoughts on Today's Verse... (Mon, October 04, 2010)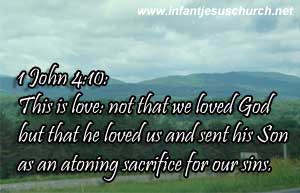 God loved us first! Says in the Gospel John 3:16: "For God so loved the world that he gave his one and only Son, that whoever believes in him shall not perish but have eternal life". He offered his Son to save us no matter of humanities decision to believe or not believe God grace. He has given the ability to accept or reject the death of his Son as the sacrifice for our sins. The Spirit of God is the Spirit of His love. He, who does not love the likeness of God, has no salvation of discernment of God. It is always God's nature to be kind and merciful, and it gives happiness. The only law of God is love, love one another and all would have been perfectly happy, had all obeyed it. The gospel says, for the forgiveness of sin, and the salvation of sinners, always with God's glory and justice, that shows that God is love. None of the words or thoughts can do justice to free, astonishing love of a holy God towards sinners, who could not profit or harm him, whom he might justly oppress in a moment, and whose deserving of his retaliation was shown in the method by which they were saved. Loving Christian is a perfect Christian, exemplary for each other, and he is perfect to it, he is expert at it. Everyone's love oils the wheels of his affections, and sets him on that which is helpful to his brethren. Man that go for business with ill will, always does that badly. God dwells in everyone and we are in Him. But how may it be known whether the testimony to this does begin from the Holy Spirit? Those who are truly convince to do that they are the sons of God, call him Abba, Father. Love to him, children of God hate sin, and whatever disagrees with his will, and they have a sound and hearty desire to do His will. Such testimony is the testimony of the Holy Spirit, testimony of Jesus.
Let us Pray...
Heavenly Father, God Almighty, why you should love us and send Jesus to die for us, which we never fully understand. Thank you very much for your love. Teach us to love one another our needy brethren. Thank you for your sacrifice for our sins. We acknowledge that we are sinners. Thank you Jesus for coming to save us. We pray in your name and by your intercession, Infant Jesus. Amen.
Saint of the Day... (October 04, 2010)
October 04, 2010
Saint of the Day:
St. Francis of Assisi
Read More about today's Saint Click Here...
Today's Readings... (October 04, 2010)
October 04, 2010
Memorial of Saint Francis of Assisi, religious
First Reading:
Gal 1:6-12
Responsorial Psalm:
111:1b-2, 7-8, 9 and 10c
Gospel:
Luke 10:25-37
Color:
White
Special Intercession...
Let us Pray for children those write their midterm exam. Let us specially pray to the Lord...
---