Ephesians 4:2:
Be completely humble and gentle; be patient, bearing with one another in love.
Thoughts on Today's Verse...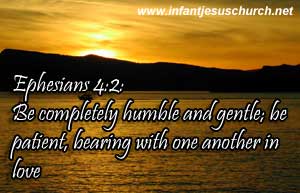 Nothing is pressed more earnestly in the bible, than to walk as becomes those called to Christ's kingdom and his glory. By lowliness we understand humility, which is opposed to pride which everyone false. By our meekness, that excellent disposition of soul, which makes everyone unwilling to provoke, and not easily to be provoked or offended. When we find much in ourselves for which we can hardly forgive ourselves, therefore we must not be surprised if we find in others that which we think it hard to forgive. In all faithful of God the Father dwells, as in his holy temple, by his Spirit and special grace. Our great example in this challenge is Jesus. Think of what he had to put up with in his twelve disciples. Remember how transformational was his patience and gentleness with them. let us meek and humble in all action and practice.
Let us Pray...
Heavenly Father, Give us strength and patience, Loving God, that we may be as loving, gentle and patient with others as our Lord Jesus was with people during his earthly ministry and you have been with us. In the name of Infant Jesus, our Lord we pray. Amen.
Saint of the Day...
September 15, 2010
Saint of the Day: Our Lady of Sorrows
Read More about today's Saint click here...
Today's Reading...
September 15, 2010
Memorial of Our Lady of Sorrows
First Reading: 1 Cor 12:31-13:13
Responsorial Psalm: Ps 33:2-3, 4-5, 12 and 22:
Gospel: John 19:25-27:
Color: White
Special Intercession...
I ask everyone's prayer for my friend whose brain is serious affected by cancer and admitted in the NIMHANS hospital.
---