Ephesians 5:1-2:
Be imitators of God as dearly loved children and live a life of love, just as Christ loved us and gave himself up for us as a fragrant offering and sacrifice to God.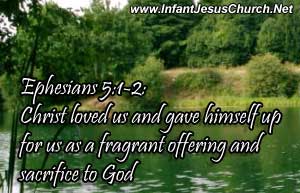 John said in his gospel, that we must love with more than we speak, we must show our love through our deeds and actions. (1 John 3:18) This genuine love means which will give ourselves up, what we want, our commitments, our rights, our desires to honor God and serve others. Today's verse says imitation, it is the most sincere form of flattery. If we sincerely flatter God by being like him, imitation may be the most costly form of flattery as well. We see, love for God is never something that occurs just in our minds or our hearts. Love is an action and something we do for another. This is a kind of love that can change the world, as Jesus did for the humanity. This is the kind of love that God has given to us! Now let's follow our saviour Jesus who is the model of that we love.
Heavenly Father, we will not know fully how you could love us so much that you would allow your son to die for us to save this world, as my sacrifice. Please help us love others sacrificially and help us to understand better your plans. We know the power to do this is not within us, so please pour your love into our heart, fill with your spirit, so that we may share that love with others. Through Infant Jesus, our Prince of Peace and our savior and sacrifice, we pray. Amen.
Let us specially pray for the departed soul of Bro. Cassian Koshi Pullomparambil, the may the soul rest in peace.
---